What Is A General Home Inspection?
A home inspection is designed to reflect; as accurately as possible, the visible condition of the home at the time of the inspection. A home inspection is not technically exhaustive, or destructive, but is a visual only inspection of the systems, major accessible component defects, and safety issues of the home. Home inspectors are professional unbiased building consultants who are trained not only to know what symptoms to look for in a home that may indicate a safety, structure, or component defects; but also to evaluate how these systems are working together and identify areas that need to be watched, repaired, or replaced.
Your home inspector will give you the "Big Picture" analysis of the house.  If the inspector identifies the need for a costly, detailed analysis of any of the home's systems or structural components, the inspector will recommend the appropriate professional. That professional may be an experienced engineer, a qualified licensed contractor, or a specialty tradesman with expertise capable of analyzing that particular system or structural component.
What Aspects of Your Home Will Be Inspected On Inspection Day?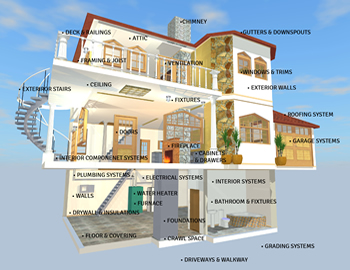 ~ HOME INTERIOR (floors and ceilings, walls, stairs and banisters, finishes, sinks, cabinets, fireplaces, shelving, built-in appliances, smoke detectors and safety-related items, and other visible interior-related components)
~ HOME EXTERIOR (siding materials, attachments, windows, doors, trim, sashes and lintels, vents, entryways, and other visible exterior related components)
~ ROOF (shingles, flashings, chimneys, vents, trim and gutters, drip edges, skylights, eaves, fascia, sofits, downspouts, and other visible roof related items)
~ ATTICS (insulation, ventilation, rafters, joists and collar ties, trusses, wiring attachments, and other visible related items)
~ BASEMENTS AND FOUNDATIONS (insulation, ventilation, posts, vapor barriers, utility attachment, water heater, sump pumps, structural items, floors and walls, and columns)
~ ELECTRICAL SYSTEMS (service entry and clearances, service panel, accessible switches and outlets, visible wiring and junction boxes, grounding system, and other related electrical components)
~ PLUMBING AND FIXTURES (water pressure, water distribution system, waste/drainage & vent system, hose bibs, sinks and faucets, bath/showers and toilets, sanitary system, and other plumbing system components)
~ HEATING AND COOING SYSTEMS (furnace, air cleaning parts, ductwork, air conditioner and lines, and other visible related HVAC components)
~ GARAGE (firewalls, ceiling, ventilation, walls, electrical, vehicle door(s))
~ SITE GROUNDS  (driveways, sidewalks, retaining walls, grading, decks, patios, porches, railings, patio cover)
What To Expect Before, During, and After Your Inspection Day?
While you are not required to attend your home inspection it is highly recommended. When you attend you can get a first hand experience of your home being inspected and will therefor be available to ask question in the best possible context. However; if you are unavailable, the information about the homes condition and safety can be ascertained from the inspection report and; if needed, calls to your inspector to answer any questions.
Just prior to your home inspection you will be asked to sign a home inspection agreement, this agreement should have also been made available to you by email prior to the inspection. If you are not present at the home inspection this agreement can be signed via email as well.
Payment can be made during or before the inspection. Payment can be made prior to the inspection day using PayPal where you can pay with a credit card or bank debit; if you wish to use this method to pay but are unfamiliar with PayPal just ask your inspector, PayPal is free and easy. If payment isn't made prior to the inspection, cash and personal checks are accepted on the inspection day.
During your home inspection you are urged to ask questions; your inspector will answer all your questions professionally and understandably. The home inspection process is designed to educate you about the property being inspected and the more questions you ask the more informed you will be.
At Absolute Home Inspection Services we do not rush through your home inspection, at most we do 2 inspections a day so that we can go through your home right. You should expect your home inspection to take up to 3 hours for an average home and possibly a little longer for homes that are particularly large, old, or homes that are in considerably poor condition.
After the inspection you can expect a digital copy of your home inspection report as well as any other ordered inspections within 24 -48 hours of the end of the inspection (depending on the start time, radon inspections may take longer due to an extended testing period). After the digital copy, an official bound hard-copy will be sent out to the address listed in your file. This hard-copy includes a CD or thumb drive with every photo taken during your home inspection among other extras.
If you have any questions before, during, or after your inspection please call Absolute Home Inspection Services directly, Thank you.
If You Are Anywhere Near The St Louis or Saint Charles Area, We Will Come To You!!
Saint Louis
West County
Woodson Terrace
Webster Groves
Overland
Clayton
Saint Ann
Hanley Hills
Kirkwood
Charlack
Harvester
Jennings
Richmond Heights
Clarkson Valley
Weldon Springs
Fenton
Pacific
Defiance

Florissant
Hazelwood
Lake St. Louis
Ladue
Manchester
Sunset Hills
Saint John
Berkeley
Ferguson
Maplewood
O'Fallon
Cottleville
Orchard Farm
Weldon Springs
Eureka
Wentzville
New Melle
Imperial

Saint Charles
South County
Bridgeton
University City
Chesterfield
Des Peres
Breckenridge Hills
Pagedale
Pine Lawn
Olivette
Earth City
Flordell Hills
Affton
Oakland
Wildwood
Valley Park
House Springs
Arnold

North County
Saint Peters
Manchester
Ballwin
Crestwood
Creve Coeur
Brentwood
Shrewsbury
Maryland Heights
Bel Nor
Edmundson
Town and Country
Frontenac
Huntleigh
Spanish Lake
Ellisville
High Ridge
Foristell

Just A Few of the Saint Louis Area Districts Where We Perform Home Inspections
Contact Absolute Home Inspection Services
For A Real Estate Home Inspection in Saint Louis, Saint Charles, and all Surrounding Counties.
Call or Text Now To Schedule An Appointment With Your Home Inspector:
314-299-9034
AbsoluteHomeInspector@gmail.com

Hours of Operation:
Monday – Friday, 9:00 a.m. – 10:00 p.m.
Saturday - Sunday, 11:00 a.m. - 10:00 p.m.